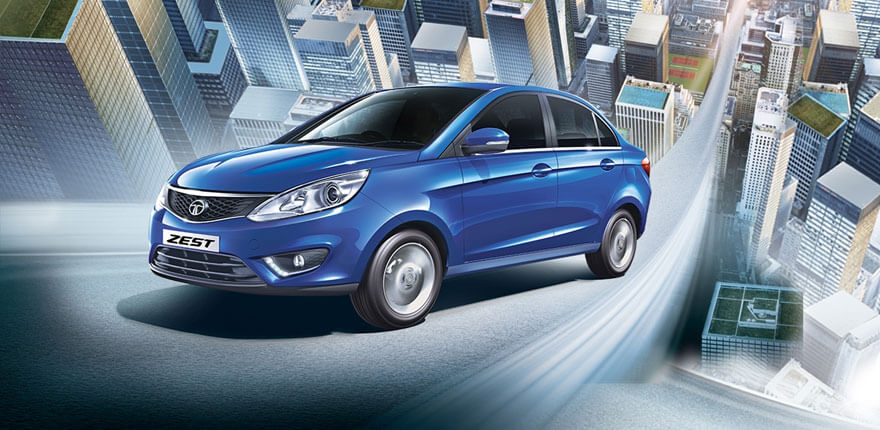 Ever since Tata invented the 'Compact Sedan', they have put all hands on deck to dominate the segment.
This led to the birth of Tata Zest, which launched in the year 2014.
Tata Zest gives you the experience of a sedan at a cheap price. The price of the base variant of the Zest starts under 26 lakhs in Nepal.
The birth of Zest took Tata Motors to a new direction in terms of car design. The look of the Zest is modern and appealing as opposed to other cars that held the same logo. Plus, there is some addition of some new feature on the inside of the car.
This article will talk about the price of different variations of Tata Zest in Nepal along with other features and offering that Tata Motors has given the Zest.
Tata Zest Price in Nepal
| Model | Fuel Type | Transmission | Price |
| --- | --- | --- | --- |
| Zest XE | Petrol | 5-Speed Manual | 25,95,000 |
| Zest XM | Petrol | 5-Speed Manual | 32,55,000 |
| Zest XT | Petrol | 5-Speed Manual | 35,55,000 |
| Zest XE | Diesel | 5-Speed Manual | 31,95,000 |
| Zest XM | Diesel | 5-Speed Manual | 35,95,000 |
| Zest XT | Diesel | 5-Speed Manual | 38,55,000 |
| Zest Quadrajet XM | Diesel | 5-Speed Manual | 34,95,000 |
| Zest Quadrajet XT | Diesel | 5-Speed Automatic | 37,95,000 |
Exterior
Tata Zest uses Tata Motor's X1 platform and it falls under the sub-4 meter compact sedan segment. Zest was completely re-engineered to make it more competitive than other cars that used this platform. Zest has a more conventional look similar to the sedan, unlike Tatas later designed Tigor.
Zest was one of the first Tata cars to feature its signature smiling honeycomb grille. It has chrome lines running on top and bottom of the grille and massive projector headlamps beside it. Triple-striped air-dams fall below the number plate slot with fog lamps on each side.
Around the back, the boot of the car gets a proper fitting and big LED tail lamps and black plastic cladding bumper. A chrome strip runs from one tail lamp to another. There is an antenna on the top rear end of the roof. The bumper also hosts 4 parking sensors and a fog lamp.
The side view has got thick shoulder lines running through the car. There is an ORVM on each side, with turn indicators embedded in them. It also gets a noticeable flared wheel arches with 15-inch alloy wheels.
The Zest, when first launched was the best fitted and finished product from Tata. It was well designed and the material used was of good quality. Though many new cars has launched in the segment over the years, the Zest remains a worthy contestant.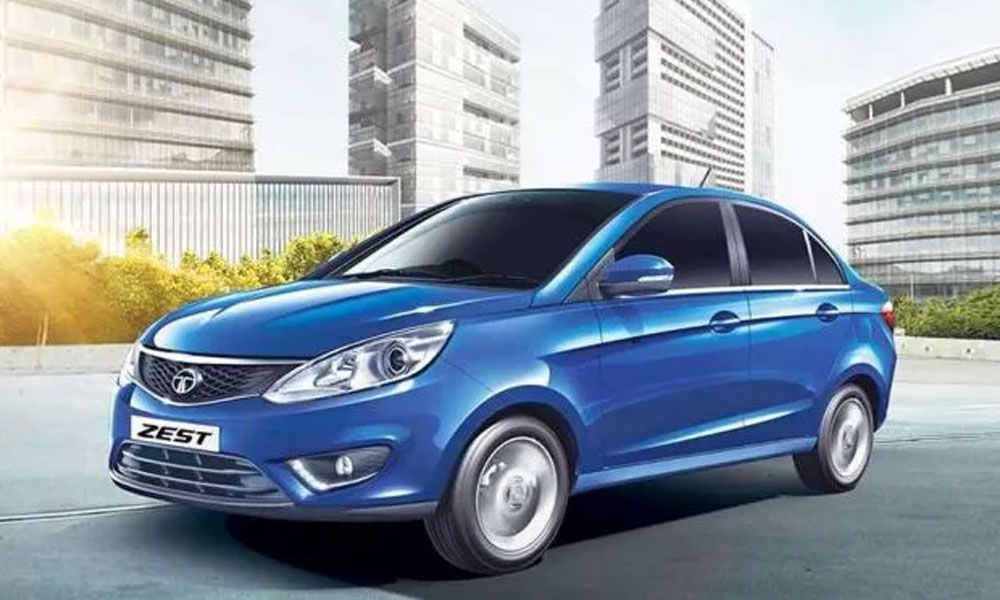 Interior
The Zest has got a simple yet elegant set-up which adds to the convenience of driving this car. The two-tone dashboard features a black and beige theme. The fitting on the interior is close to perfection and the ergonomics are well thought off.
The electric powered steering wheel holds infotainment control buttons and a 3-spoke design. It can be height adjusted but not for reach. Behind it, you have the instrument cluster with a speed dial, RPM dial, and a mid-screen. The mid screen provides other useful car and engine information.
The center console holds the AC vent, infotainment system, climate control, USB and Aux slots. These are well placed and easy to access from both front seats. The infotainment system by Harman features 6 speakers. The top variant also gets a 5-inch touchscreen and 8 speakers, so you can expect the sound system to sound great.
The seats of the Zest gives good support, adequate cushioning, enough head and leg space. Driver's seat is height adjustable to the driver's comfort. It has a high and commanding position for a comfortable driving experience. The rear seats are wide and comfortable as well and can sit 3 passengers. The boot space is slightly smaller than its competitors at 390 liters.
The Zest is a spacious sub-4-meter sedan but lacks some storage space inside.
Performance
Tata Zest is available in both petrol and diesel engine with 4-cylinders. The Revotron 1.2L petrol engine produces 90 PS of power and 140 Nm of torque. This 1193 cc engine with the 5-speed manual transmission gives optimum performance.
The 1.3 L Quadrajet diesel engine is available in two states of tunes, 75PS and 90PS. The former Quadrajet engine has a 5-speed manual transmission. It can churn out a torque of 190 Nm @ 1750-3000 RPM. It is a 1248 cc engine.
The 90PS diesel engine can churn out 10 Nm torque more than the 75 PS engine at same RPM level. This engine is also available with a 5-speed automated manual transmission (AMT).
The best part of Tata Zest is, even at a low price, it boasts 3 driving modes. Like in the Tiago, the 'City' mode is set to default where the 'Eco' mode increases the fuel economy while decreasing the power and speed. The 'Sport' mode of the Zest give it an extra edge and the car runs faster. This mode tends to guzzle more fuel than the other two.
Tata Zest Specification
| Fuel Type | Petrol | Diesel 75 PS | Diesel 90 PS |
| --- | --- | --- | --- |
| Displacement | 1193 cc | 1248cc | 1248 cc |
| Length | 3995 mm | 3995 mm | 3995 mm |
| Width | 1706 mm | 1706 mm | 1706 mm |
| Height | 1570 mm | 1570 mm | 1570 mm |
| Weight | 1135 kg | 1152 kg | 1170 kg |
| Max Power | 90 PS @ 5000 RPM | 75 PS @ 4000 RPM | 90 PS @ 4000 RPM |
| Max Torque | 140 Nm @ 3500 RPM | 190 Nm @ 3000 RPM | 200 Nm @ 3000 RPM |
| Seating Capacity | 5 | 5 | 5 |
| Ground Clearance | 175mm | 175mm | 175mm |
| Boot Space | 390 Liters | 390 Liters | 390 Liters |
| Fuel Tank Capacity | 44 Liters | 44 Liters | 44 Liters |
| Fuel Efficiency | 18 kmpl | 23 kmpl | 21 kmpl |
| Front Brakes | Disc | Disc | Disc |
| Rear Brakes | Drum | Drum | Drum |
| ABS | Only top variants | Only top variants | Only top variants |
Tata Zest is one of the first good-looking compact sedan offered by Tata. Tata has made huge improvements on design front to make it look appealing. The internal aspects have also seen major updates and functional features.
However, Tata does not offer as standard ABS and airbags in the Zest. Even the touchscreen infotainment system is only available in the XT variant.
Despite, Tata Zest is a good option if you want a conventional looking compact sedan in a budget price. Another good offering from Tata Motors in the segment is the Tigor. Tata Tigor is a newer, trendier and more stylish compact sedan from Tata.