If you are looking for a reliable car with the latest tech at an affordable price, your search ends with Renault Kwid.
The Renault Kwid is a budget car that has got features that you won't get in any car of this price range.
This car is here to take over the small car segment with its likable design and inexpensive quotation.
The price of the Kwid in Nepal starts at Rs 19,89,700.
And, you can get the Kwid in an automatic transmission for an extra 3.5 lakhs only.  No other company offers any car in an automatic transmission for a price even close to this.
Renault gave Kwid samples new features, amazing technology and top of the class mileage. It is hard to believe you can get all these features for such a low price, especially in Nepal. No wonder the launch of the Kwid got so many people excited.
Renault offers the Kwid in 3 different models with 7 trims in total. You can pick one of the five color choices. Fiery Red, Ice Cool White, Moonlight Silver, outback Bronze, and Planet Grey. This gives you enough options to select one is best suited for you.
So, let us see what the KWID is all about and how it has changed the market for small cars.
Renault Kwid Price in Nepal
| Model | Variant | Fuel | Price |
| --- | --- | --- | --- |
| KWID 0.8L | Rxl | Petrol | 19,89,700 |
| KWID 0.8L | RxT | Petrol | 21,07,100 |
| KWID 0.8L | Rxt O' | Petrol | 21,53,700 |
| KWID 1.0L | Rxt | Petrol | 21,96,613 |
| Kwid 1.0L | Rxt O' | Petrol | 24,11,663 |
| KWID AMT | RXL | Petrol | 23,30,730 |
| KWID AMT | Rxt O' | Petrol | 24,58,556 |
Exterior
The Kwid is a small hatchback but its design gets inspiration from an SUV. When you look at the car, you won't believe that it costs under 20 lakhs.
It gets a chunky 2 layered grille with headlights on each side and chrome Renault logo in the middle. It also gets 2 fog lamps below the headlamps. There are bumpers in the front-rear and plastic cladding on both sides. The materials used on the Kwid does not feel cheap at all.
The flared wheel arches, rear spoiler and the design at the back, gives it the SUV look. But, the plastic clad ORVM that needs manual adjustment and the single rain wiper could use an update. But then again, it is a budget car after all.
The Kwid also gets better ground clearance than its competitors. With a clearance of 180mm, the seating position gets elevated. This gives the driver a feeling that they are driving a bigger car.
All three models of the Kwid have a similar exterior design apart from the 1.0 badging to state the engine size.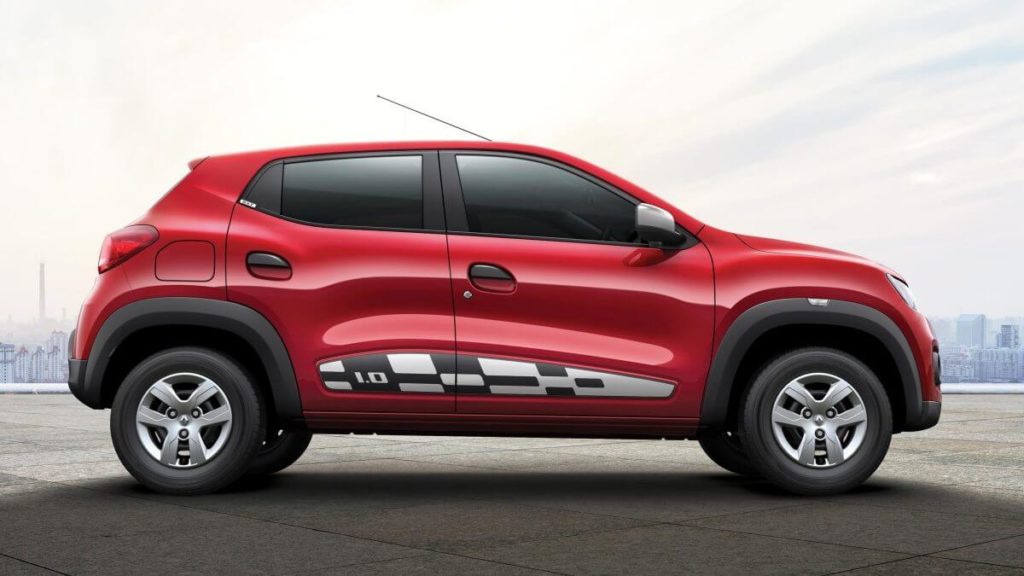 Interior
Kwid has a few premium features that aren't available in other cars of this segment.
The Kwid get the best-in-class cabin and boot space. When you step inside, you will realize it, as there is a good amount of head and leg space. The steering wheel is sturdy and seats are well cushioned.
There isn't any shortage of storage space either. Though the dashboard is mostly made of plastic, the material used in the car feels fine for a budget car.
The attractive digital instrument cluster is also a first in the segment. It shows fuel economy reading and feels like more than what's bargained for.
Other features include power windows, air conditioning, and central locking. The top variants also feature keyless entry, fog lamps, and 7" touchscreen system.
The automatic transmission version of the Kwid gets a dash mounted and easy-R gearbox.
This dial comes with 3 driving modes: Reverse, Neutral and Drive. This version has got the crawl feature to help move in slow traffic.
Kwid misses out on important safety features like ABS and airbags. Only top end variant gets a single driver side airbag.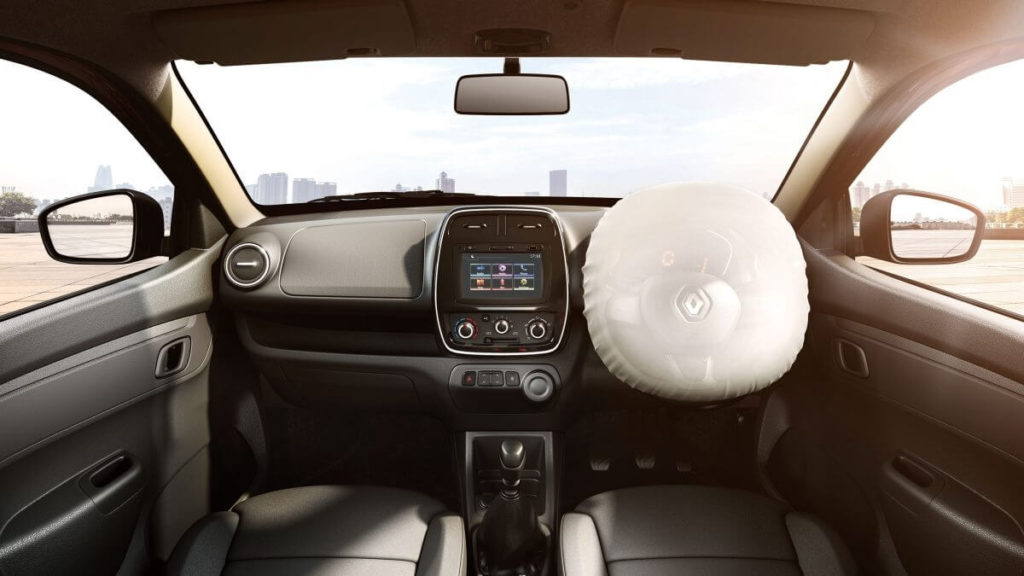 Performance
Due to its super lightweight, the Kwid gives the most efficient performance. The 0.8L engine with 3 cylinders can churn out 54 PS of power at 5678 rpm and 72 Nm of torque at 4400 rpm. This 799 cc car gets 5-speed manual gearbox with a high fuel economy of 25 km per liter. Weighing around 660 kg, this car has a great power to weight ratio of 85 PS per tonne.
The 1.0L engine also has 3 cylinders. This engine is more refined and gives 14PS more power than the 0.8L unit. Its peak torque reaches 91 Nm at 4250 rpm. For this engine, you can opt for a 5-speed manual gearbox or an Easy-R AMT, 5-speed automated gearbox.
The automatic transmission gives a better mileage of 24 kmpl as opposed to manual 23 kmpl. Apart from the mileage, the performance of the manual gearbox matches that of the automatic one.
Renault Kwid Specifications
| Engine | 0.8L SCe | 1.0L SCe |
| --- | --- | --- |
| Displacement | 799 cc | 999 cc |
| Length | 3679 mm | 3679 mm |
| Width | 1579 mm | 1579 mm |
| Height | 1478 mm | 1478 mm |
| Weight | 660 kg | 660 kg |
| Max Power | 54 PS @ 5678 RPM | 68 Ps @ 5500 RPM |
| Max Torque | 72 Nm @ 4400 RPM | 91 Nm @ 4250 RPM |
| Seating Capacity | 5 | 5 |
| Ground Clearance | 180 mm | 180 mm |
| Boot Space | 300 Liters | 300 Liters |
| Fuel Tank Capacity | 28 Liters | 28 Liters |
| Fuel Efficiency | 25 kmpl | 23 kmpl |
| Front Brakes | Disc | Disc |
| Rear Brakes | Drum | Drum |
| ABS | No | No |
The Kwid as got a sporty look of an SUV. It offers most of the necessary features that one looks for in a car. And it is beating its competition in more ways than one.
So, what's not to like about the Kwid?
Apart from the fact that Anti-lock Brake System is missing, it is hard for me to find an answer to that question. Although it is not completely justified for missing ABS, the lightweight of the car does not put too much pressure on the brakes plates.
If you are on a tight budget but need a car, I don't see any reason why you should not opt for Renault Kwid.